Together with animation director Jin Angdoo Lee (Artcore Productions) and stop motion animator Elmer Kaan, we took on this new challenge commissioned by advertising agency EURO RSCG Amsterdam and LU Cracotte.
When Jin finished her animatic, we had to find a way how to realise a top shot and how we could minimize the time needed for the actors being on set.
On the picture above you can see the kitchen set in the background. In the foreground you can see the construction which our technical director, Peter Mansfelt, created to move the camera around the table.
After the kitchen was build up, the lights were set. We worked together with DOP Michael Brooke to get a similar light setup on both sets. Of course the sets needed to look the same to create the idea everything was taking place in one set.
After finishing the light setup, the setdressers could arrange all the food and other materials we would need on the set. 
Before filming, the animator, Elmer Kaan, together with the director, gives instructions to the actors. During the animation process, everything needs to go as fast and smooth as possible, so a good briefing is very important. As you can imagine the youngest actor always gets some extra attention.
During the animation the food stylist, Cor Meyerink, continiously worked on improving and copying the fresh food. As you can imagine fresh food and hot studio lights are not an ideal combination. Luckily Cor knows some magical tricks so the food looked fresh during the entire shoot.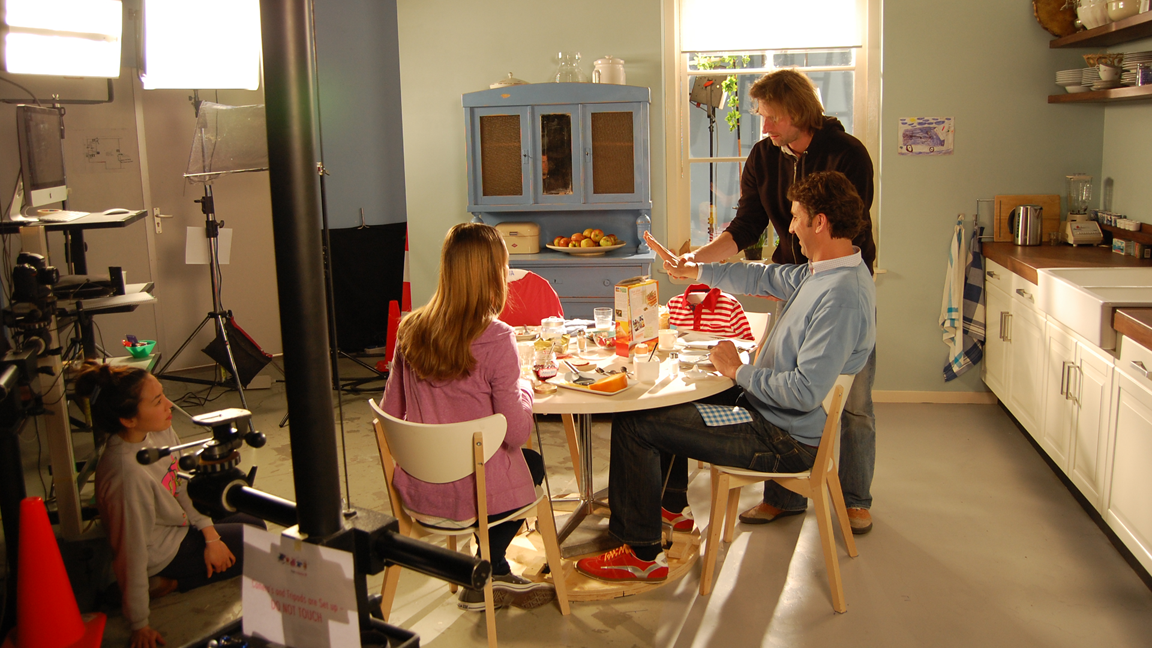 This last image shows how Elmer, the animator, captured the actors frame by frame. Being an actor in this pixilation shoot can be very challenging. You need to focus and stay in position all the time. As you can see we animated the boy and the mom separately.